A charming corner of Palazzo Ricci
It's no secret that there's ever-more attention and public interest on property ownership in Italy, with jaw-dropping "deals" surfacing constantly across headlines and television programs. There's also a collective, pandemic-facilitated push to follow stalled dreams and take the leaps we've been longing for, but putting off. For much of the Italy Magazine readership, having a home-away-from-home in the Bel Paese is certainly a long-held desire.
But, as with all dreams, there are practicalities that can put one off in the pursuit. Just as there's no such thing as a free lunch — well, except at Nonna's — there's no one euro house that truly costs one euro.
If pragmatic concerns are your primary obstacle to purchasing property in Italy — and aren't they always? — you should think outside the box. Consider embracing a fractional home ownership setup with Palazzo Ricci in the charming medieval town of Casoli, in the heart of Abruzzo, recently honored as one of the Borghi più belli d'Italia.
Authentic Italy inside and out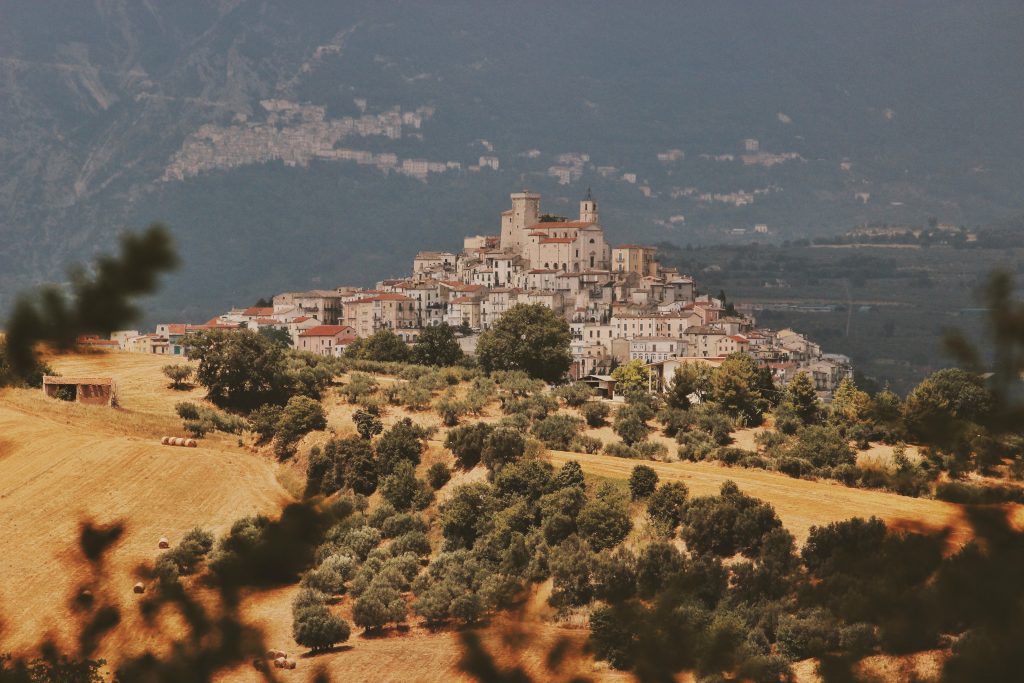 Casoli in Abruzzo, the home base of Palazzo Ricci
Palazzo Ricci is not a walled-off island, but a thriving center of activity and community building with a profound respect for the area's history. As Owner Relations Advisor Valeria Milano puts it, "It's not only a real estate development; it's something that's bringing back to life some really important aspects of village life." In line with trends around rural Italy, a substantial portion of Casoli's young population has embarked on new adventures abroad, or headed north for fruitful work opportunities. When "flight" at this level exists, a community risks dying out, and with it, its heritage, its architecture, its culture and cuisine.
On Palazzo Ricci's respect for its own history, Milano adds, "It's not something built from scratch, or some old house that we looked at and said, 'Oh, it's really nice. Let's remake it, remodel it, modernize it.'" Expansion and renovations are currently underway, expected to be completed in 2023, but always with considerable respect for the past. The aim is to preserve, not completely re-design. The 18th-century palace was originally built for Italian nobility — its namesake family, to be precise — who frequently entertained artists, writers, royalty and dignitaries. Figures as prominent as Gabriele d'Annunzio have set foot here; as such, the space commands respect.
But Palazzo Ricci's focus isn't just on big names and jet-setters. Their staff and community members are staunchly committed to preserving local traditions, crafts and cuisine. Palazzo Ricci supports local charities like the Cooperativa Sociale Voloentieri, a group that works with differently abled women who use antique textile machines to create table mats, linens, bags and other accessories; reflecting traditional Abruzzese designs, the handmade items are used throughout the residences. Palazzo Ricci's community is also deeply involved in the "Bella Casoli" initiative, which has been backed by local government.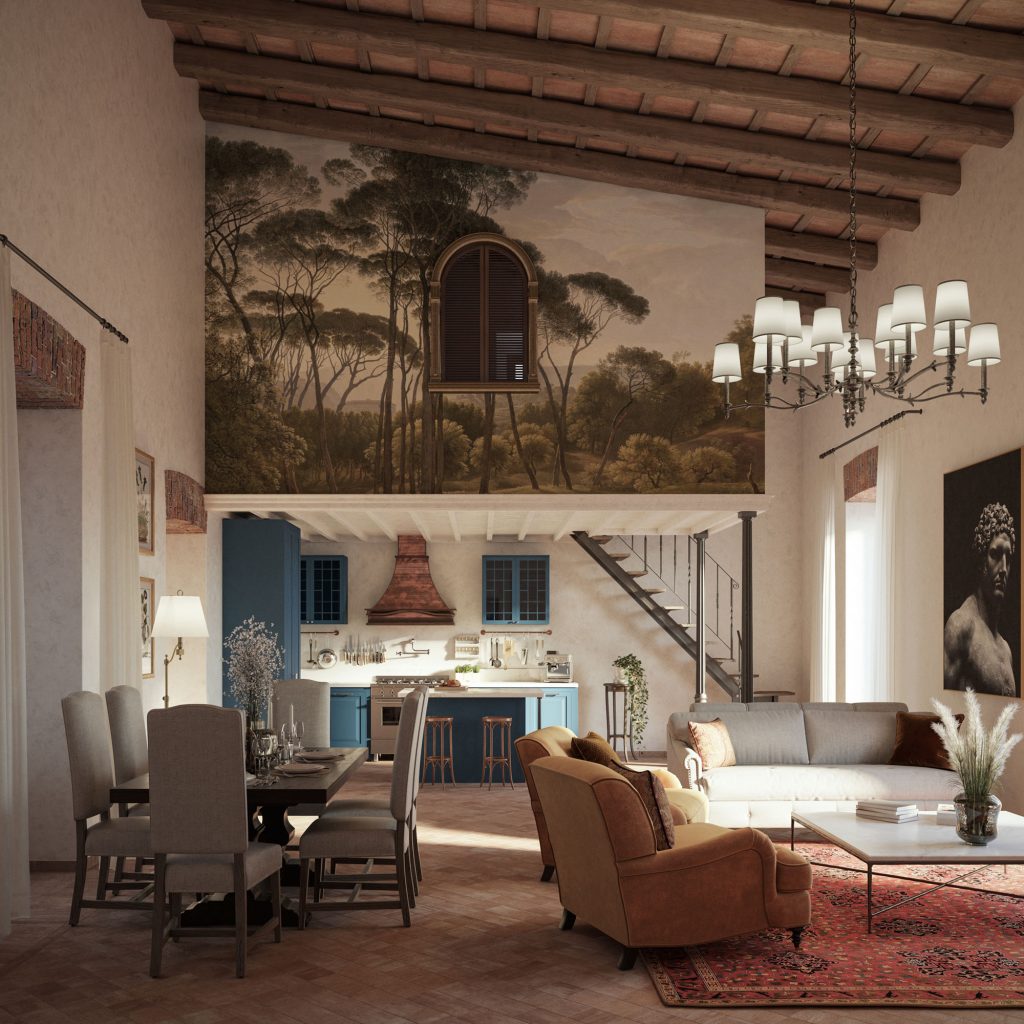 Palazzo Ricci's interiors build on its long and inspiring history.
Typically, when people come to take part in a Palazzo Ricci Experience tour — a sort of "taster" for becoming a fractional owner of the residence — they fall in love first with the pulse and pace of village life, the beloved local rituals and the people who bring it all to life. The amenities — and there are plenty of those, too! — are a distant second.
Palazzo Ricci community members are guaranteed a minimum of five and a half weeks of usage rights per year. Once they're on the ground in Casoli, they can design their days as they please, taking part in any number of activities and events on tap, or mingling with others in the always-lively communal spaces, which include an owners' lounge, a sprawling garden, a rooftop observation deck and a Roman bath, to name a few.
Members also benefit from the many conventions that the Palazzo Ricci staff has with authentic producers and operators around town and beyond. A day at the beach? Palazzo Ricci can have your cabanas locked down before you can pack your sunscreen. A mountain retreat? All you have to do is show up and tie your hiking shoes. But if you're wanting to be more hands-on in the planning, the crew is open. Community is built together, after all.
Why fractional ownership in a private residence club?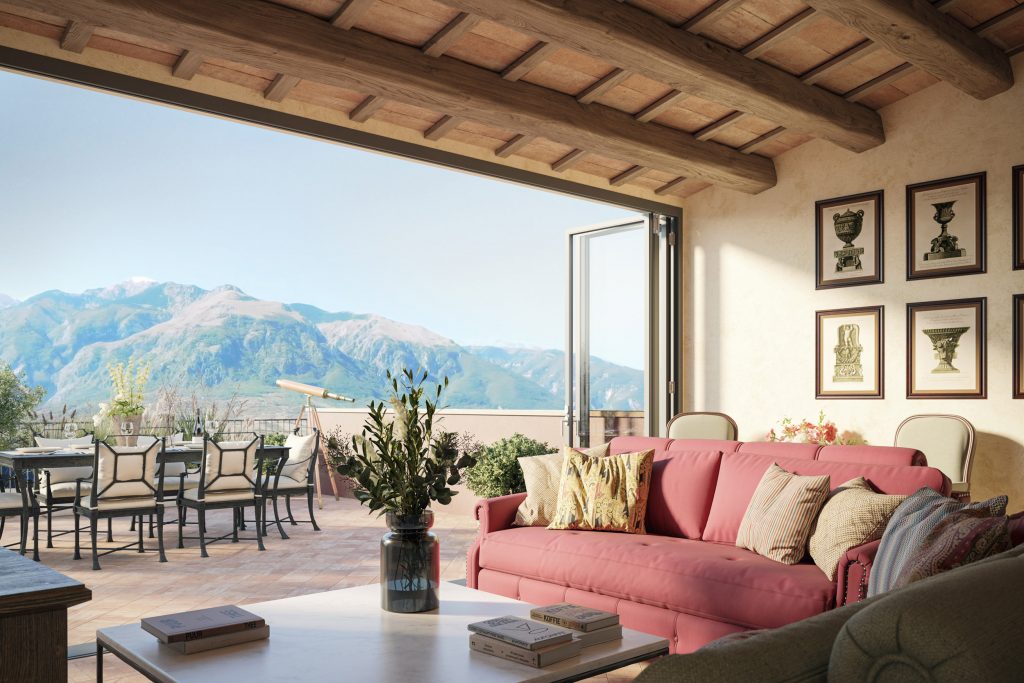 Luxury hotels can be a vacation dream, but there are limits — how long you can stay, who can come and what you can actually do on the ground, to name a few. Second homes offer more flexibility, but higher costs, whole new systems of bureaucracy to navigate and, in a foreign country, the perpetual feeling of being a fish out of water.
As a fractional ownership property set in a private residence club, Palazzo Ricci cuts out the pitfalls of both experiences and keeps the benefits.
As Milano and the team put it, the toughest decision community members have to make is just which type of property they'd like to claim as their own. Once they're here, they have full access to 360-degree, five-star, resort-level services with well-informed, passionate staff who are part of the community themselves. Navigating the minefield of international property purchase and taxation? Investing in Palazzo Ricci makes it very easy for every buyer, the nuts and bolts are handled for you at no extra cost.
All that, paired with a trusting and cooperative environment where members are fully autonomous: your guests are your guests. Your tenants, your business. You come and go as you please, without the constraints of a hotel, or the headaches and mind-boggling maintenance costs of wholly owned vacation properties.
Dreaming big yet? Palazzo Ricci certainly is. By summer 2023, the club will comprise 14 elegant residences that range from a cozy one bedroom to an opulent penthouse with a view. Learn more on the website: there's never been a better time to take a leap toward la bella vita.