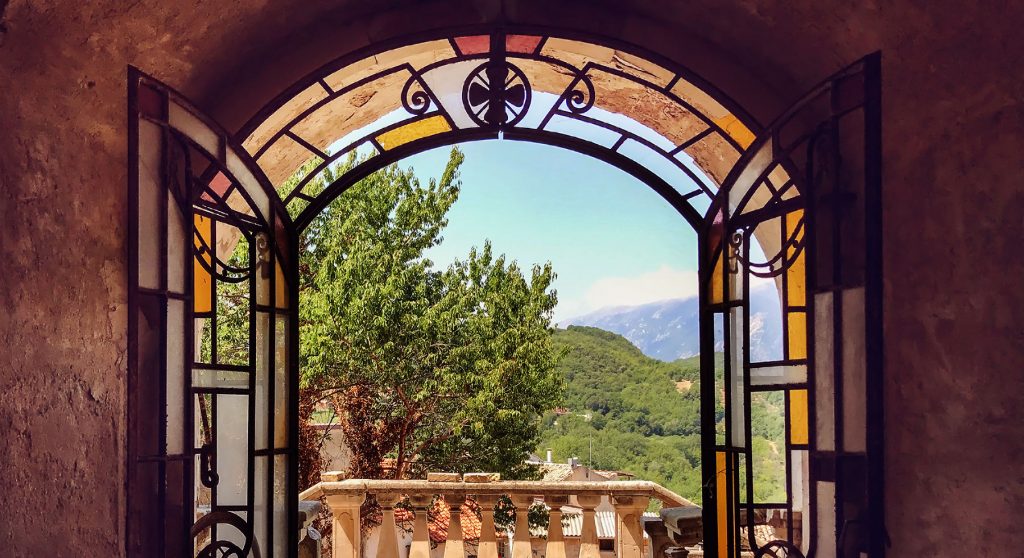 As many of you might know, Palazzo Ricci was a noble palace owned by the Ricci family of Casoli. Throughout the years the Palazzo was decorated with many distinctive features of different periods which perfectly tell us the story of the Palazzo and the family. These of course include the stunning 'Art Nouveau' Liberty style stained glass windows in the Atrium.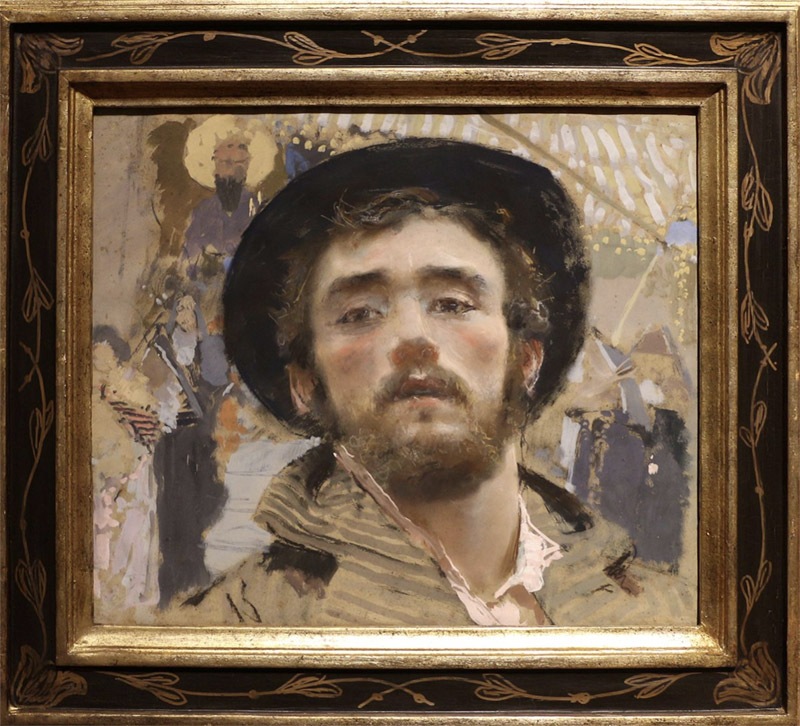 Francesco Paolo Michetti, Self-portrait, 1877, Gallerie d'Italia, Napoli
Did you also know that Baron Ricci's wife, Donna Aurelia Ricci, was the daughter of Italian painter Francesco Paolo Michetti? The Abruzzan artist is recognized as one of the most important representatives of the Italian art of late 1800s, both for his talent and for the incredible community he created in his Francavilla al Mare convent, where he used to host the most important exponents of the Italian art, literature and politics.
Restoration Director Creates Decorative Templates for interior of the Palazzo
It's no surprise then that Palazzo Ricci was decorated with the most sophisticated yet authentic local styles, and in the process of its restoration we are trying to keep both this authenticity and the elegance and the grandeur of the Palazzo. For this reason, Spencer Power (minority partner & Palazzo Ricci's on-the-ground restoration director) and his team of specialist painters are working hard on creating beautiful, decoration templates which will add to the authentic charm of the palace residences and common areas.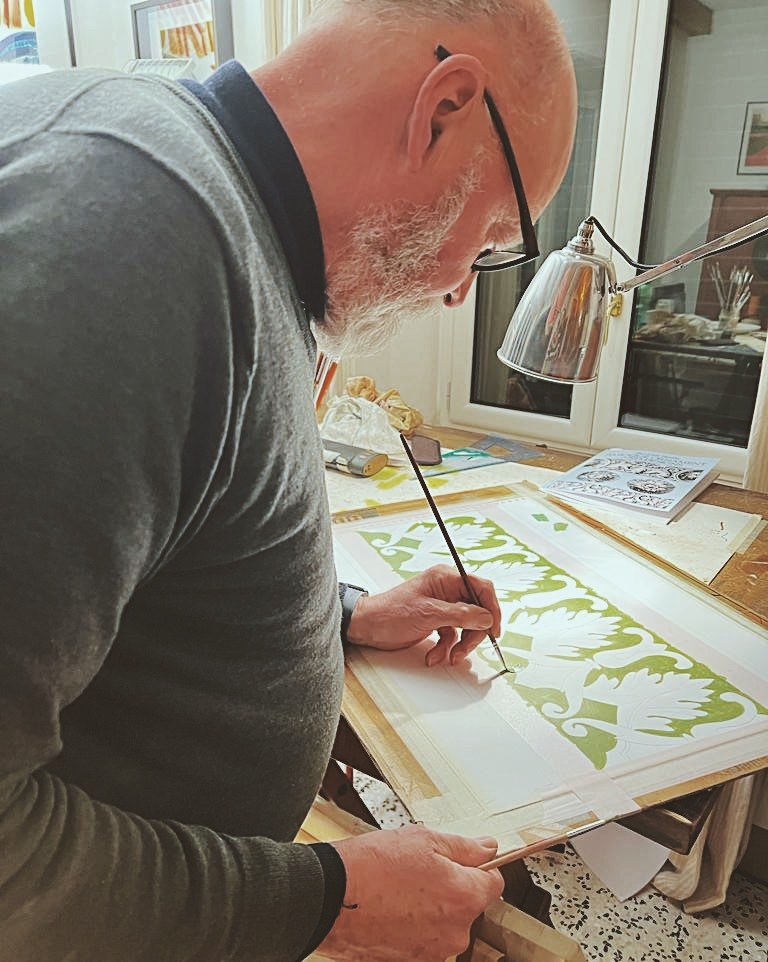 Spencer Power paints a design template that will be later painted throughout the Palazzo Ricci
After studying Fine Art at Saint Martin's School of Art, Spencer developed his artistic skills into the field of Specialist Painting. He has produced 'Trompe L'Oeil' figurative wall paintings, Marbling and 'Faux Bois' works for clients world-wide. He has also painted to commission for an international client base. In recent years Spencer has had several one-man shows exhibiting in the City of London, the Space W10 Gallery and the Dissenters' Chapel Gallery. He has also curated and participated in the successful series of mixed shows 'Artisti Inglesi Paesaggi D'Abruzzo' in the Castello di Casoli.
Below you can see some of the examples of the decorative painting which Spencer and his team will be using in the Palazzo. They are being painstakingly drawn out and coloured by hand (as these were in the 18th and 19th centuries) and are taken from the extraordinarily intricate finishes at the Palazzo Doria Pamphili in Rome and other important noble Palazzi in Italy, and in Abruzzo as well. This rich compendium of patterns and decorative friezes will be used throughout the Palazzo as well as other marbled, stone and wood specialist techniques that our guests can already see and feel in our Experience Center in Casoli.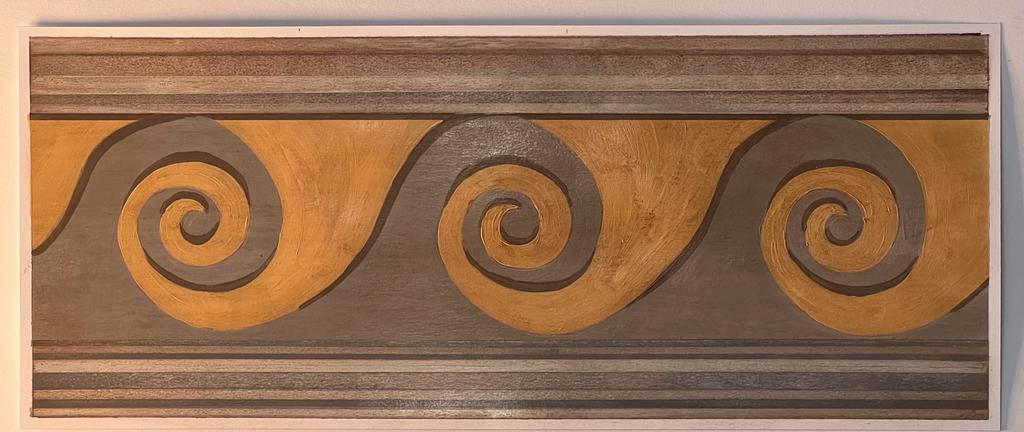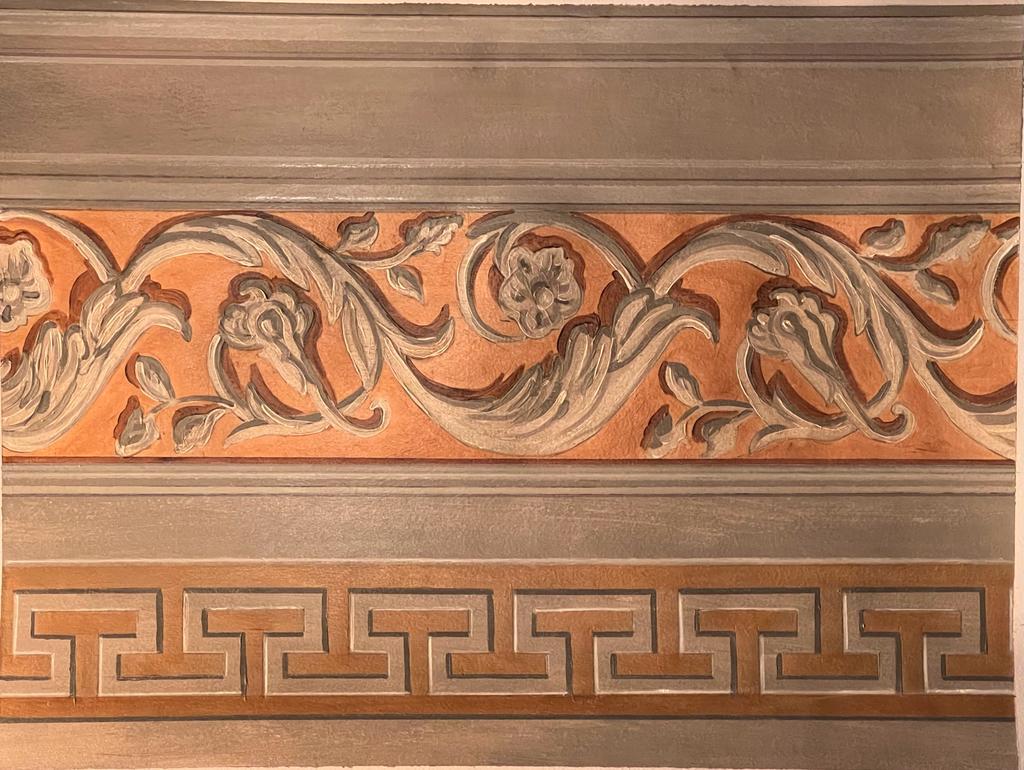 Decorative Painting Samples that will adorn the Palazzo Interior