Anyone who's ever visited Italy has likely spent at least a few moments daydreaming about living there. Palazzo Ricci is a soon-to-launch private residence club that can make that dream a reality — 126 owners will own 14 private residences in a beautifully restored Italian palace in picturesque Casoli. Located in Abruzzo, Palazzo Ricci fractional owners will enjoy the stunning yet relatively under the radar region for at least 5.5 weeks a year with flexible booking and true Italian real estate ownership.
Palazzo Ricci is expected to open its doors in spring 2023 and is the brainchild of serial entrepreneur Mike Brosnan, who fell in love with Abruzzo and saw a serious business opportunity in the vacation home market. "Abruzzo is perhaps the most untouched, authentic and pristine region of Italy," says Brosnan. "It's rated in the Top 10 of best places in the world to retire, to invest in real estate and for its quality-of-life index."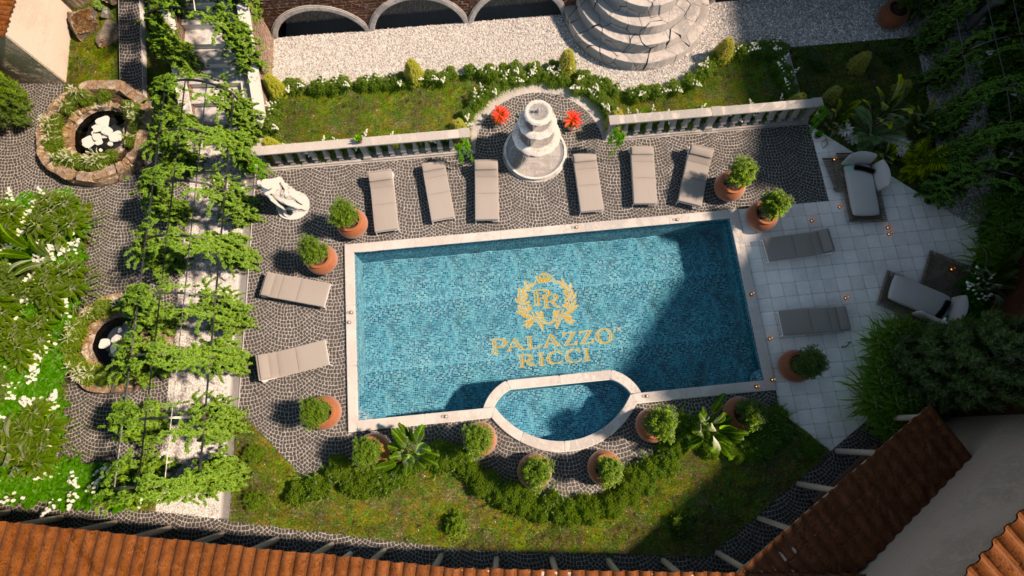 Owning a Piece of Abruzzo
As the saying goes, location is everything when it comes to real estate and Palazzo Ricci brings a lot to the table in that regard. It sits high on a hill in Casoli steps away from the town's medieval castle with views of the Apennine Mountains, Adriatic Sea and the Italian countryside. For future owners, the ocean and the mountains are both within a short drive giving the property year-round appeal for beach and winter sport lovers alike. On top of the striking natural landscape, Abruzzo is also famous for its rich history and culinary delights which include pasta, candy, saffron and truffles.
There's a huge demand for vacation homes in Italy particularly from northern Europeans (hailing from the United Kingdom, Germany and Scandinavia) and Palazzo Ricci offers a convenient yet luxurious option for a second home. The property marries the perks of staying at a hotel — an on-site concierge, daily housekeeping, and grocery delivery — with the benefits of homeownership. Residences will be fully furnished with gourmet kitchens, fireplaces, washer/dryers and storage which makes packing for a longer stay so much easier. 
The smallest residence at Palazzo Ricci has one bedroom while the largest is a three-bedroom penthouse/cottage. The residences come with balconies and terraces to soak up views of the surrounding rolling verdant hills. On top of the well-appointed residences, there will also be 10,000 square feet of private, an outdoor pool and fitness center gardens, Roman bath, and on-site recreational facilities. The 221-year-old Italian Palazzo is steeped in history and the building will be fully restored to reflect its illustrious past, as well as adorned with Italian artwork and décor for fractional owners to enjoy.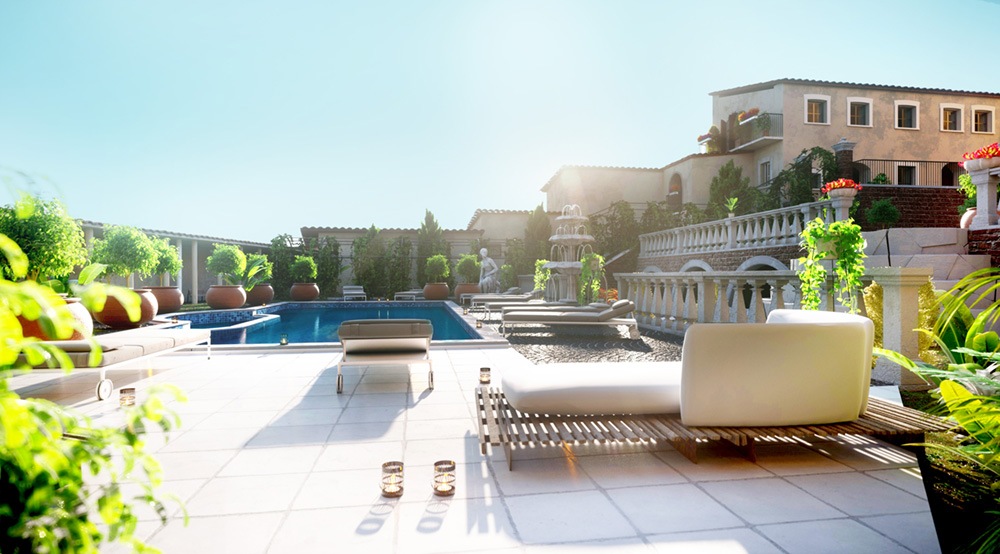 So, what does fractional ownership entail exactly? It differs vastly from timeshares because Palazzo Ricci residents will have outright ownership not just time allotted throughout the year. 
"Owners in Palazzo Ricci purchase an equity 9th share in a residence which provides a minimum 5.5 weeks per year at the property and use of all the amenities," says Brosnan. "Because the purchase price is proportionate to the amount of vacation time you desire, fractional ownership is a rational, cost-effective way to invest." Booking is done easily online and Palazzo Ricci owners can also make their residence available for rent, exchange or sell their unit.
On top of Palazzo Ricci ownership, residents have an additional big perk — becoming members of Elite Alliance, a highly exclusive global exchange network. Boasting 135 prestigious residence clubs and vacation/holiday homes, membership allows for exchange around the world accessing a variety of destinations from ski resorts to city locations to beach vacations. "If you want to mix up your vacation/holiday ownership in other parts of Italy or around the world then the benefit of membership in Elite Alliance is a great privilege," says Brosnan.
A stay at Palazzo Ricci also comes with smaller local perks like cooking classes, private tours of the region and local guides showing you ancient ruins and majestic nearby castle. Adventurers will love there are activities like mountain biking, fly fishing, rafting and hiking nearby.
In a time where owning real estate is hotter than ever, Palazzo Ricci offers a turnkey solution that blends the experience of a vacation with the benefits of homeownership. Additionally, residents can delve into Italian history and the unique charms of Abruzzo. "Palazzo Ricci is positioned perfectly to offer authentic experiences with full immersion into real Italian culture, truly becoming part of the local community," says Brosnan.