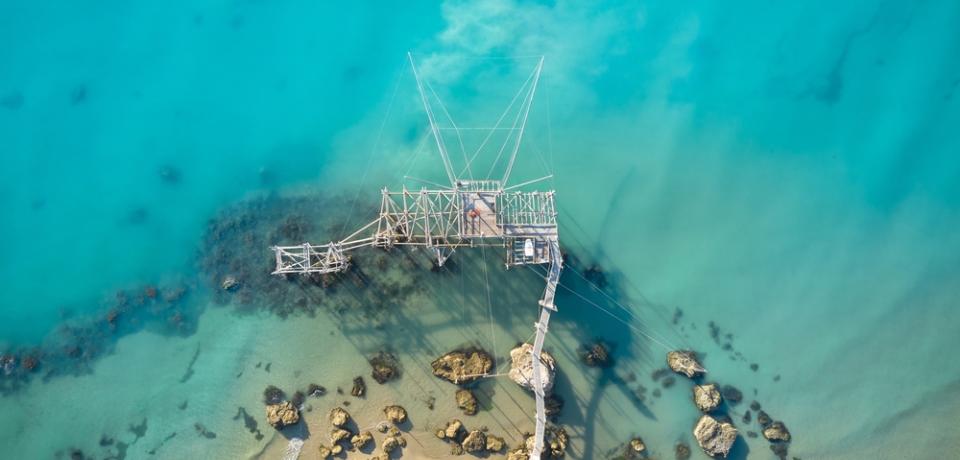 Aerial view of a trabocco (traditional Abruzzese fishing machine) on the Abruzzo coast / Photo: Massimax via Shutterstock
The Essential Guide to Abruzzo
The mountainous region of Abruzzo is known for its dramatic, starkly varied scenery. In its "wild west," majestic rivers and lakes, lush forests, craggy crests and snow-capped peaks dominate, while to the east you'll find 133 km (82 miles) of shoreline, the sandy beaches gently lapped by the waters of the Adriatic Sea.
Settled in the Middle Bronze Age by tribes who inhabited the Apennines, Abruzzo was eventually overtaken by the Romans, then later merged with its southern neighbor, Molise, when both fell under Norman control in the 12th century. Generations of ruling dynasties followed until the unification of Italy in 1861. But it wasn't until 1963 that Abruzzo was severed from Molise to become the self-governing, independent region it is today.
Arguably one of the lesser-known regions in Italy, Abruzzo has nonetheless become a favorite shooting location for international film crews over the years. Among the most notable movies shot here are The Name of the Rose (1986) starring Sean Connery and based on the novel by Umberto Eco; Ladyhawke (1985) with Rutger Hauer, Michelle Pfeiffer and Matthew Broderick; and the crime thriller The American (2010), starring George Clooney. Filmed in and around L'Aquila, which suffered immense hardship after a 2009 earthquake, the shooting locations were seen as a gesture of support by Clooney, a longtime Italian homeowner.
When to go
Abruzzo's weather is heavily influenced by its brew of park-covered terrain, massifs, hills, plains and coastal zones (the region is 65% mountainous and 35% hilly). On the Adriatic side, for instance, the climate tends to be hot and dry in the summer, topping up to 30 C/+100 F). Winter months are typically rainy with coastal temperatures hovering around 8C/46 F. At higher elevations, expect January and February temperatures to clock in around 2 C/36 F. Snowfall is common (averaging 190 days of frozen precipitation a year), which is happy news for winter sports enthusiasts.
How to get there
Situated on the southeastern side of the Italian peninsula, where the "calf of the boot meets the ankle," this thinly populated region is bordered on the east by the Adriatic Sea, to the north by Le Marche, the west by Lazio, and southward by tiny Molise.
By train
Train travel to Abruzzo from more mainstream destinations typically involves a change or two, but nothing an attentive rider can't handle. From Rome, take the Sulmona-Pescara line (about four hours), and change onto a coastal train in Pescara if you want to get up to Teramo. From Florence, you'll need to change in Bologna. From Milan, you can take a direct line from Milano Centrale to Pescara Centrale in a little under five hours.
By car
There are three main highways (autostrade) in and out of Abruzzo. The A14 runs north to south, crossing through Abruzzo's coastal provinces. The Autostrada dei Parchi (A24) stretches from Rome, north, to Teramo via L'Aquila. To arrive in L'Aquila from Pescara, you can take the A25.
By air
Serving both international carriers and low-cost domestic airlines, Abruzzo Airport (PSR) is 3 km (about 2 miles) outside of Pescara. If you're flying from outside of Europe, you'll likely spend less and have fewer layovers if you fly into Rome Fiumicino (FCO) or Ancona's Raffaello Sanzio Airport (AOI). Both Rome and Ancona are about a two-hour drive from Abruzzo, depending on where in the region you're going.
By bus
Local bus and long-distance coach companies like TUA Abruzzo link the outer bounds of the region with larger Abruzzo cities, while also offering limited extra-urbano (out-of-town) trips from cities like Rome and Naples.
By ferry
For international adventure-seekers, two companies, SNAV and NLG, provide ferry crossings from the country of Croatia to Pescara.
Getting around Abruzzo
Because much of the region is rural, remote and rugged, traveling by rail — apart from connections between metropolitan areas and popular tourist destinations — is a slow business in Abruzzo.
Buses do run around much of Abruzzo and are relatively inexpensive. Keep in mind that schedules may be sporadic, depending on your destination. The most efficient way to get around is by car, and also affords you the freedom of spontaneous stopovers in charming little towns and villages you find along the way.
Best things to do and see in Abruzzo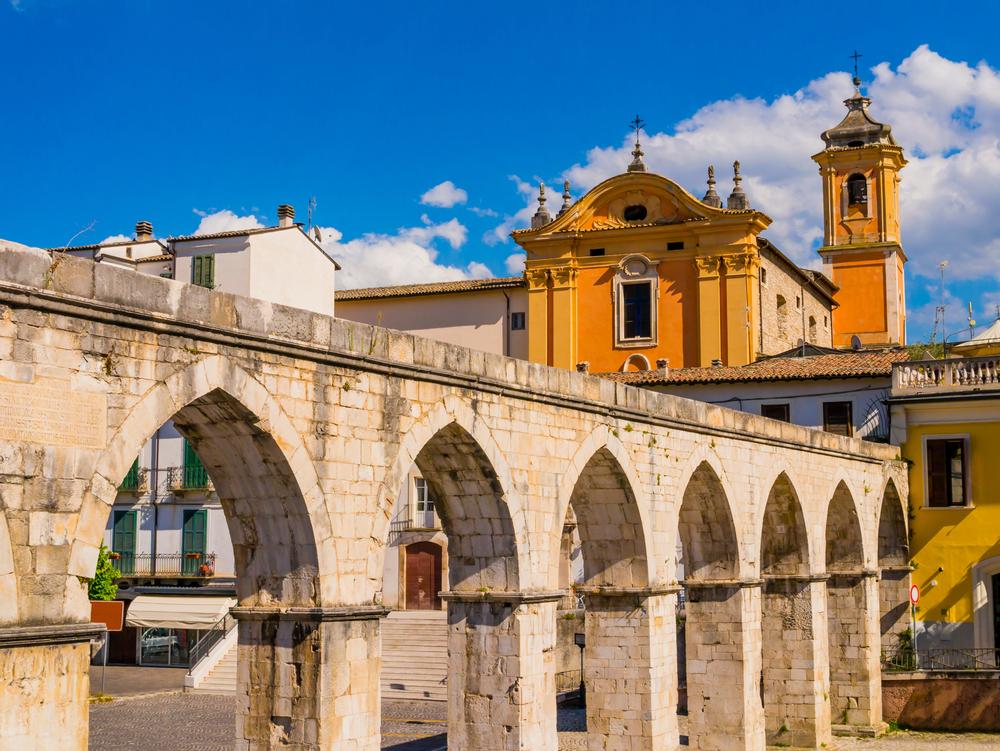 Historic center of Sulmona / Photo: ScottYellox via Shutterstock
Experience Abruzzo city life
Traversing the region is a network of winding roads that link age-old hilltop towns with a handful of bigger cities that include L'Aquila (the capital), Pescara (the largest city), Chieti, Teramo and Sulmona. Abruzzo's medium-sized cities offer plenty to do and see but at a slower, less frenetic pace.
We'll start with Pescara, and not just because it's easy to reach from the region's main airport. This port city has wide, sandy beaches, a large marina, historic churches, a couple of excellent museums, including the Museo delle Genti d'Abruzzo (Piazza Garibaldi 41/2) and a vibrant nightlife. West of Pescara is L'Aquila, Abruzzo's capital, which was sadly ravaged by the previously mentioned earthquake in 2009. Nearly 15 years on, the town is still re-emerging from the rubble. Stroll the city's lovely porticoes that cap the main thoroughfare, Corso Vittorio Emanuele, leading to Piazza Duomo (often referred to by locals as Piazza del Mercato), one of the largest squares in Italy. Before heading out of town, don't miss the mysterious 13th-century Fontana delle 99 Cannelle (Fountain of 99 Spouts) just opposite the small church of St.Vito, near the railway station.
Further up the coast is Teramo, a city nestled in the Gran Sasso mountains and surrounded by the Tordino and Vezzola rivers. Just south and west of Pescara, Chieti is home to the Museo Archeologico Nazionale d'Abruzzo with the famed statue of the Warrior of Capestrano, discovered in a necropolis dating from the 6th century BCE. Take a drive to the seaside city of Vasto, overlooking the Golfo d'Oro (Golden Gulf). It's just 12 km (7 miles) from the border with Molise.
Storm some castles
Splattering the Abruzzese countryside are remnants of the region's formidable military past. Here are our top two castles.
Rocca Calascio
The tiny, elevated village of Rocca Calascio (population less than 200) is actually a former citadel and borgo of the same name. Eventually abandoned by its noble owners over the centuries it was further forsaken following an earthquake in the late 1700s. These days, the site has been slowly revitalized and houses in the hamlet have been re-inhabited, with a few shops and restaurants cropping up here and there. Miraculously the fortress, and its surviving 10th-century watchtower, are still standing, perched at an elevation of around 1,460 meters (4,800 feet), making it the highest fort in the Apennines. It was here that the movies Ladyhawke and The Name of the Rose were filmed.
Via Padre Mario 1, Calascio (AQ) / Website
Castello di Salle Vecchio
Built in the 10th century as an important military outpost, Castello di Salle Vecchio is believed to have been owned by the same noble family from Genoa for the last 400 years. The castle, registered as a protected national monument, has a small history museum exhibiting the family's collection of medieval arms, armor and documents, and a restaurant open in the summer. Take a tour to catch a glimpse of the castle's private bedrooms to see where Napoleon once slept.
Via Str. Vecchia 1, Caramanico (PE) / Tel. +39 085 4549574
Hike, bike and ski in Abruzzo's national and regional parks
There are three national parks within Abruzzo's borders: Parco Nazionale d'Abruzzo, Lazio e Molise, Gran Sasso and Monti della Laga National Park and Parco Nazionale della Maiella. There are also around 40 state and regional nature reserves, plus a marine protected area, Torre del Cerrano.
Collectively, these parks offer great walking routes, mountain biking trails and ski slopes. Among the wildlife endemic to Abruzzo are the Apennine wolf, the chamois (goat-antelope), the golden eagle and, most notably, the Marsicano — a rare species of brown bear that has become a beloved mascot of the region and Italy as a whole.
Catch a fish (or a few) on Lago di Scanno
Kick back, relax and cast a line. Heart-shaped Lago di Scanno is the largest natural lake in Abruzzo, and is believed to have been formed over 3,000 years ago. Just north of the National Park of Abruzzo, it measures about one square kilometer, with a maximum depth of about 36 meters (118 feet).
Fish species populating the lake include pike, black bass and royal perch, as well as carp, rudd, chub, trout and other freshwater whitefish varieties. Rent a boat or do your angling from the shore. If you're not much of a pescatore (fisher), the crystal clear waters are superb for swimming or sunbathing during warm months.
To legally fish, a "B" type license is required. This can be obtained from the municipal office of Scanno or at Bar Dei Salici (Viale del Lago 202). And while we're on the subject of Scanno, this lovely medieval village overlooks the lake and is a member of the Borghi più belli d'Italia (Most Beautiful Hamlets in Italy) association.
Go spelunking and diving in the Grottoes of Isole Tremiti
Technically, the designated marine reserve of Isole Tremiti isn't located in the region, but in Puglia. Still, these little islets are super-popular destinations for those in Abruzzo, since they can be reached easily by boat from watery port towns up and down the coast.
According to legend, the Tremiti were created from pebbles thrown into the water by the Greek king Diomede on his return from the Trojan War. The five enchanting cays are made up of San Nicola, Capraia, Cretaccio, Pianosa, and San Domino. The latter (and largest of the islands) is rife with beautiful grottoes (caves), offering divers a sunken underworld of hidden caverns, including Grotta delle Rondinelle (so-called for its swallow migration), Grotta delle Viole and Grotta del Bue Marino.
If you're not a diving enthusiast, San Domino also affords plenty of landlubber activities, like relaxing on Cala delle Arene, the only sandy beach on the archipelago.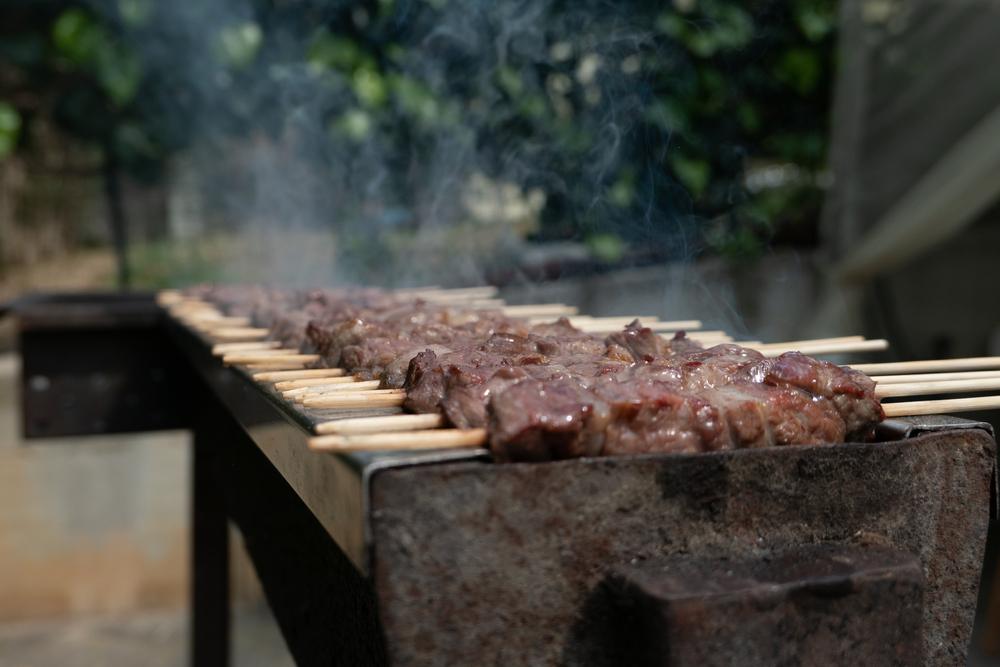 Arrosticini preparation / Photo: FabioRossi via Shutterstock
What to eat
Given Abruzzo's unique combination of mountains, plains and sea, the region's cuisine is as varied as its terrain.
Arrosticini are sizzling meat skewers (usually lamb) roasted over a charcoal fire.
Spaghetti alla chitarra is fresh egg pasta made using a wooden frame with metal wires that resemble those on a guitar. When the dough is squeezed through the "strings," it's cut into strips with squared-off edges (distinguishing it from regular spaghetti).
Confetti (not to be confused with coriandoli, Italian for tiny pieces of colored paper) are almonds covered in hard, pastel-colored candy that originated in the region.
What to drink
Montepulciano d'Abruzzo DOC is a red wine made with Montepulciano grapes grown between the Apennine mountains and the Adriatic Sea. If whites are your forte, Trebbiano d'Abruzzo DOC pairs well with your catch of the day, and also makes an excellent aperitif.
Want an aromatic liqueur that will curl your toes? Try Genziana, a potent digestif infused with the roots of the La Genziana Maggiore, a yellow flower that grows in the Apennines.
Top events and festivals in Abruzzo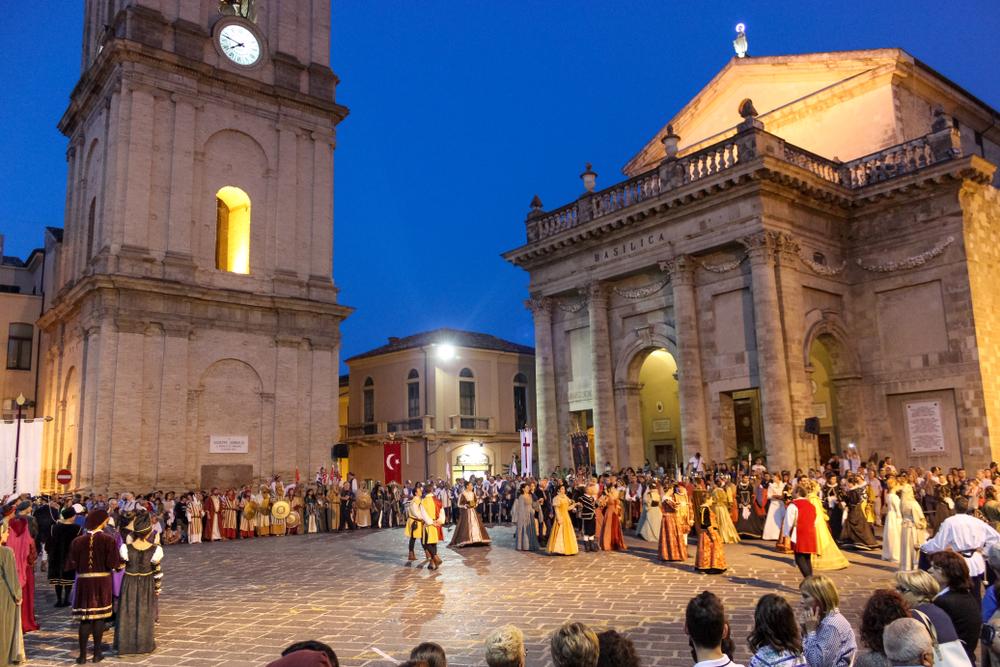 Mastrogiurato festival in Lanciano in the Chieti province / Photo: 4thebirds via Shutterstock
Mastrogiurato – Late August to early September
Dedicating an entire week to its medieval roots, the town of Lanciano (Province of Chieti) stages historical reenactments, parades, markets, music, and dancing. On the final Sunday is a solemn investiture of the Mastrogiurato (honoring the magistrate of the city that was established in the 14th century by Charles II of Anjou).
Festival of Celestinian Forgiveness – Mid-to-late August
Added to the UNESCO Representative List of the Intangible Cultural Heritage of Humanity in 2019, this festival in L'Aquila has run for more than 700 editions. The centerpiece is the basilica of Santa Maria di Collemaggio just outside the town walls, for its links to Pope Celestine V and his pardoning of sins for anyone who made a pilgrimage to the church on August 28 and 29. Today you'll find parades, concerts and plenty of local showmanship in the preceding weeks.
Feast of Sant'Antonio Abate – Mid-January
Held in the mountain town of Collelongo, this ancestral-ritual feast begins with the lighting of oakwood torcioni (torches) measuring more than five meters (16 feet) tall. They're carried throughout the town in a procession, followed by a dinner called the panarda, which lasts through the night.