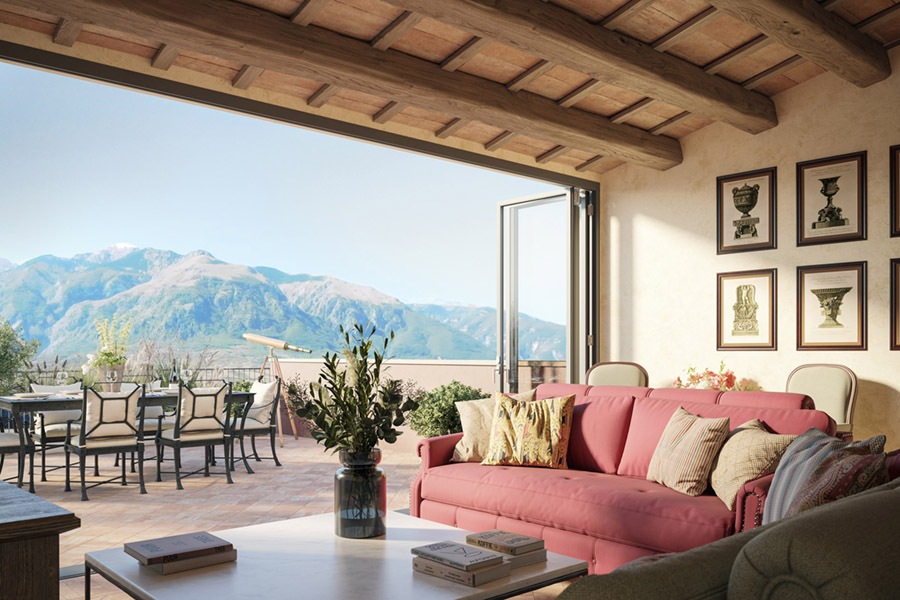 A ring, a light blue 54 convertible, and some decorations from Tiffany's. The singer of the 1953 Christmas hit "Santa Baby" may have had a demanding wish list, but she was sure right: The best holiday gifts are the ones that actually last. This season, if you're hoping to give or receive something with longer staying power than candies and consumables, you might want to check out Palazzo Ricci's new festive offering.
The owners of this 18th-century palace in the heart of Abruzzo's countryside believe that your very own private residence within the property would make for the holiday gift to top all gifts. "A palace built for Italian nobility can now be yours," reads the tagline, and it's true: The ancient stately home is nearing the end of a momentous renovation project, and residencies are being parceled off via a fractional ownership model which allows buyers to purchase the deeds a few weeks a year.
"It really would be the fairytale gift for your husband or wife, your children or your whole family," explains Valeria Milano, Owner Relations Advisor at Palazzo Ricci and Viaggio Resorts. "It's something that can be enjoyed year after year by your loved ones, and even passed down to the next generation as heirs to your little slice of the palazzo."
What makes this fractional ownership model different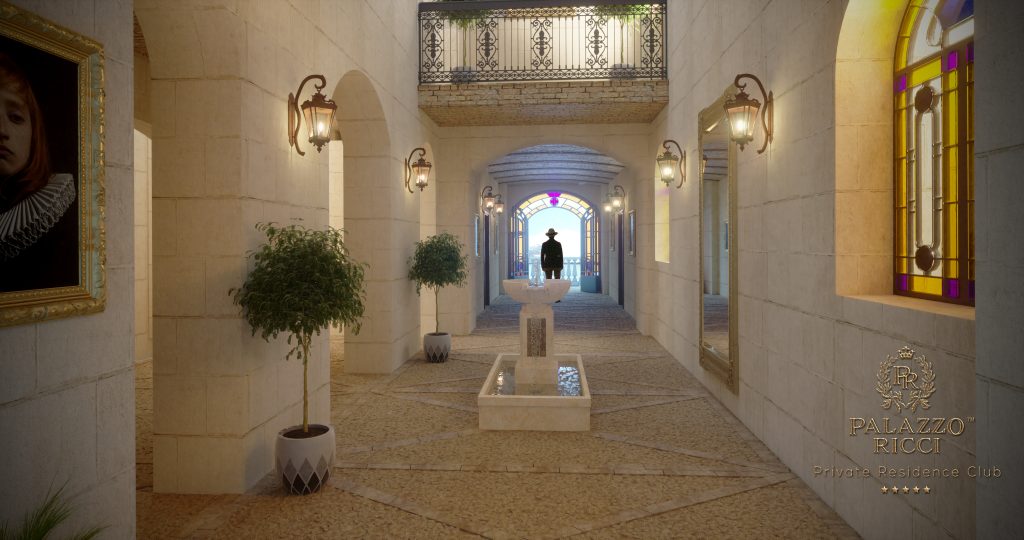 Corridor of Palazzo Ricci
Where Palazzo Ricci differs from the other fractional ownerships out there is in the level of services the private residence club offers, making it somewhere between the ultimate vacation house and a luxury hotel. The moment you arrive, your car is whisked away for valet parking, for example. There's a turn-down service each night, a concierge team on hand to arrange last-minute dinner reservations, day trips to the mountains, or a massage in the on-site pampering area.
When you arrive, tired and jet-lagged after a long flight, you'll find the fridge packed with local cheeses, charcuterie, seasonal fruit and the finest goodies from Abruzzo and beyond. In the pantry, meanwhile, you'll have new season olive oil, freshly baked bread, artisanal pasta and all the ingredients to whip up a rustic yet delicious feast, as well as some fine wines from local vineyards. If you don't fancy cooking yourself, that's not a problem either: A private chef can be called in for special celebrations and simple home cooking alike.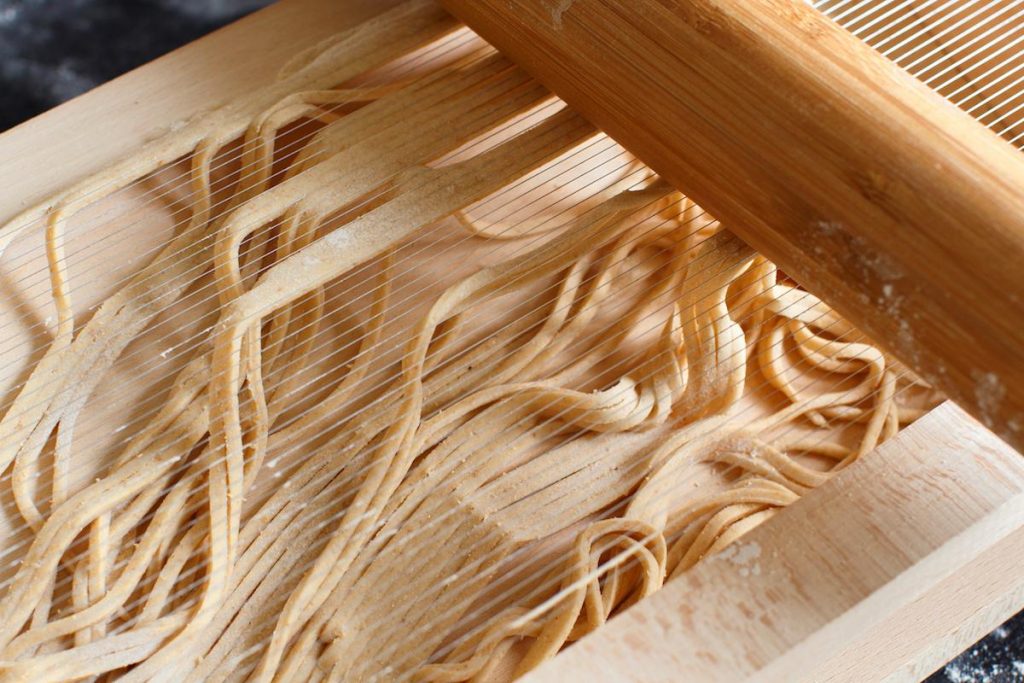 Making spaghetti alla chitarra
"In the past few months, a few clients from other co-ownership schemes have actually jumped ship and joined Palazzo Ricci because they've felt so drawn to the warmth and familial level of welcome we offer," Milano continues, with genuine happiness. "The price you see is the price you pay — there's no useless bureaucracy, and it's a smooth, transparent and quick process with no additional cost for all the paperwork."
It's not just the convenience and concierge services that make this the ultimate gift to invest in for you and your loved ones, though. The palace itself is in a prime location, making it a worthwhile real estate purchase that can be held onto indefinitely or sold in the future. 

Partner Mike Brosnan explains that when you buy a deed or share of the company, it is a legacy real estate purchase. This can be enjoyed by the owners, rented, resold or bequeathed to one's children, who can be heirs of the palazzo real estate piece and a part of the history of this extraordinary building.
A 20 minute drive to the Adriatic coast and 30 minutes to the nearest ski resort in the snow-capped mountains, Palazzo Ricci really is the meeting point between ocean and mountain, countryside and village life. "On site, you've got an outdoor swimming pool, a Roman bath, massage room, and acres of beautiful gardens and terraces," Milano explains. There's also a common area with a bar, a sumptuous TV room, and there's also going to be a museum down in the old cellars.
Exploring life in and around Casoli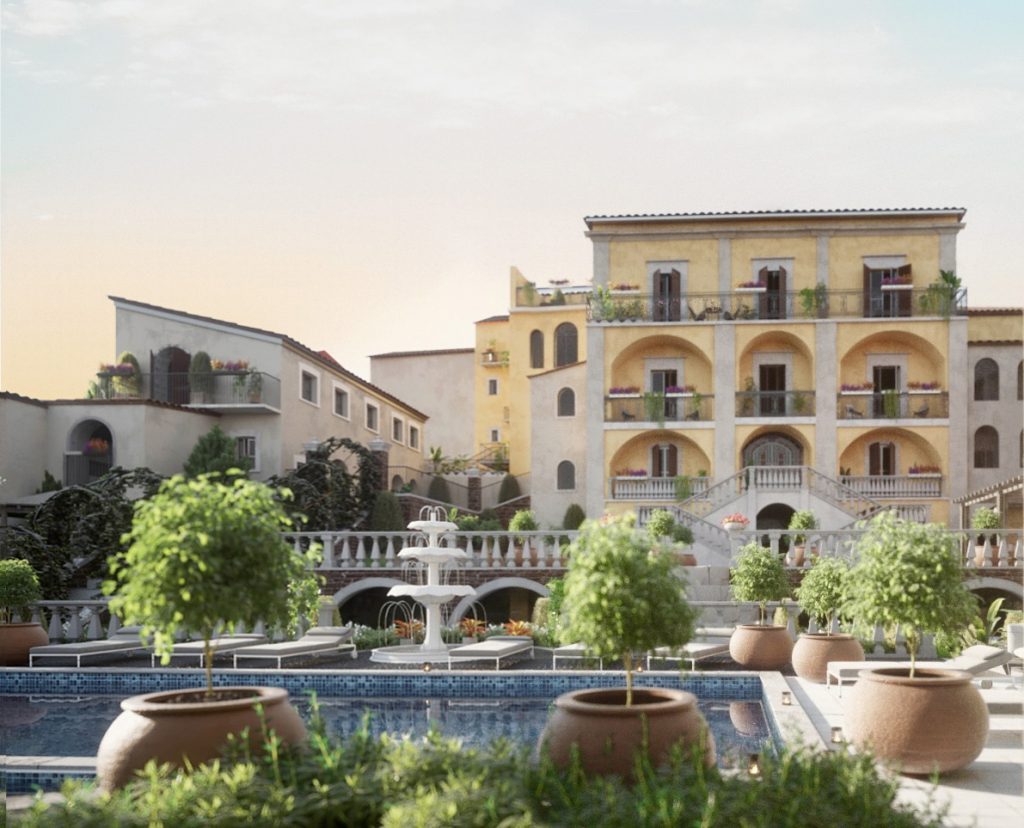 Palazzo Ricci surroundings
The residence itself is located in the medieval village of Casoli, perched high on a hill with views of both the Apennine Mountains and the Adriatic Sea. In 2021, Casoli was officially awarded a coveted I Borghi più belli d'Italia designation, confirming it as one of the most beautiful villages in Italy. There are neoclassical churches, a historic castle, and little cobbled streets to wander around, as well as delicious local restaurants.
In the countryside of Abruzzo, you'll find dishes like freshly made pasta with truffle and foraged mushrooms, just-caught seafood from the Adriatic coast during summer, and all the hearty flavors you associate with home cooking. Milano gives special mention to the local spaghetti alla chitarra, and the Palazzo's roster of private chefs who can come and cook for guests or host pasta making classes.
Slightly farther afield, you can discover the three Michelin star cuisine of chef Niko Romito, whose Abuzzese restaurant Reale has earned a host of awards and is widely regarded as one of the best restaurants in the world. It's an hour away from Palazzo Ricci, and the team can help you get a coveted table there.
Brosnan and Milano both believe that Abruzzo is a true year-round destination. "In winter you can go skiing in Mailetta, a snow-capped mountain you can see from the garden of the palazzo, or a little further to Roccaraso. In summer you can spend long sunny days on the beach, and in spring the whole valley comes into bloom. There's almost nowhere else with such access to both sea and mountains." Fall, meanwhile, seems the trees turn all shades of red and ochre.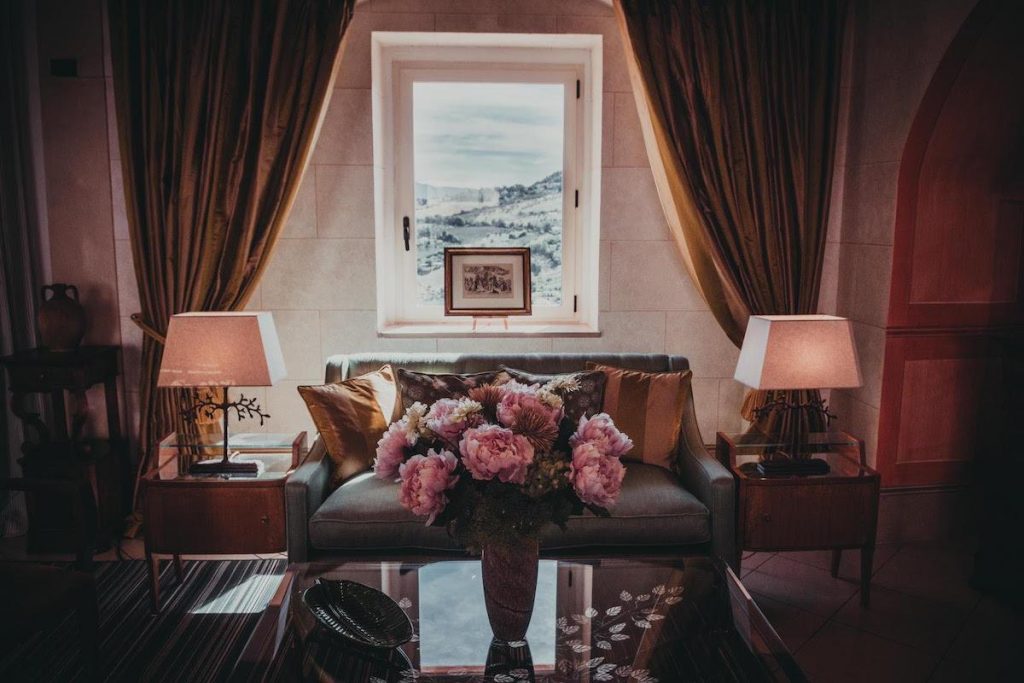 Each share of the palazzo entitles the owner to a minimum of five and a half weeks a year, broken up into sections. Three of these weeks are allocated in advance at the start of the year, the others are flexible, and can be booked on a whim should you fancy a last minute escape to your home-from-home. The palazzo itself is split up into 14 elegantly appointed residences, varying from one to three bedrooms depending on your requirements.
All in all, "It truly is a historical building, so you're buying a fascinating piece of Italian history," concludes Milano. To find out more, visit Palazzo Ricci's website.