We have been waiting for 3-4 months to get this stamp of approval.  This means we can now finally put the plans out to receive final bids.  Due to covid disruptions, our renovation and construction work will now hopefully begin September 2020.
We did manage to get a crane into the narrow streets of the old village this past week, allowing us to lift some heavy equipment over the lower-quadrant residences surrounding the palace property, right into the garden area.  This equipment will allow us to begin digging, leveling and removing certain unwanted items.
Italy Virtually Eradicates Covid19!
Good news, bad news.  Unlike the United States, Italy has nearly eradicated the virus from their country and have opened back up to most foreign travel. FYI, Casoli, our city, had little to no cases from the beginning.
Unfortunately, on July 1, 2020, the EU placed a new "ban" on American travelers, to be reviewed every 15 days.  This means we have had to cancel the latest Experience Trip … again.  Ugh.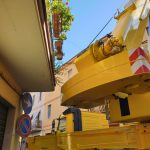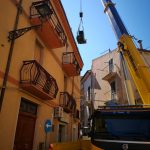 The next Experience Tour dates are:
Sept. 3-7
Oct. 7-10
Join us!  We supply the lodging, meals and activities while in Casoli.
We will soon be inviting the public to "Experience" our project firsthand!